We believe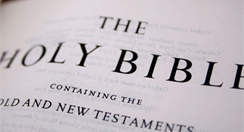 1. That the Bible is the Word of God.
2. That there is one God in three persons, Father, Son and Holy Ghost.
3. That we were made by God and that each of us must give account to Him.
4. That each person has sinned against God and deserves His judgement.
5. That Jesus Christ came to save sinners by bearing the guilt of all who trust in Him alone.
6. That we must be born again of the Holy Spirit in order to repent and believe the Gospel.
7. That true believers go to Heaven.
8. As a congregation of the Presbyterian Church in Ireland, we accept the Westminster Confession of Faith along with the Larger and Shorter Catechisms as good, human explanations of what the Bible teaches.
If you want to know more about Jesus Christ and the things that his Church believes then follow these links:
Rev. Mark Wilson
belfastconfetti@googlemail.com
Christian's Lives
http://tinyurl.com/85kmydl
Hard Questions
http://tinyurl.com/8xbp3uh
John 3:3 ESV
"Jesus answered him, Truly, truly, I say to you, unless one is born again he cannot see the kingdom of God."